Merry Christmas, Happy Chanukah, have a blissful Soyaluna and enjoy a very intoxicated Las Posadas everybody!
And now a word from our god....our sponsors
I love the December holidays. Sure, the weather drops to below freezing and my glasses fog up every time I walk into a warm building, but it's worth it. There is nothing like sitting at home with a nicely mixed jack and coke with feet kicked up on the couch while the fireplace is crackling in the background. Not only that, but I get to make fun of people who wear ridiculous holiday outfits as well as convincing people to try my newly improved "lemon sherbet." It truly is the season to be jolly.
On that note, I feel like kicking my heels a bit and celebrating this joyous occasion. Besides the feeling of opening up your holiday gifts (I can't remember what that feelings are like since I've received the same gift for the past four years- socks and underwear), there's no better feeling than parking my ass in front of my TV and watching Christmas basketball.
Is that the guy from Breaking Bad?
Every year David Stern promises of "a gift for the fans," and boy did the Jewish Santa of Basketball Operations deliver this year. We have five marquee matchups, starting with Father Time @ SwagCity (Boston@NY) followed by a rematch of the NBA finals, The Heatles vs. Mark Cubans cheque-book. Later we have the reigning MVP versus a one handed Kobe (recent report says Kobe has a torn ligament in his hand; what a legend!), followed by Superman vs Durantula, finally finishing off the day off with Lob City vs……..FUCK! I couldn't think of a good nickname for this team- The Golden State Warriors *i just thought of one: Lob City Vs The 7 Million Dollar Kwame Brown's*. All five games should promise to bring excitement as well as filling the hole basketball has left inside us during the lockouts ugly mess.
All I want for Christmas is you baby!
I'm so excited for this season to start that I have decided to do a little preview of this season and whom I think is going to win the major awards I care about. With a shortened season of 66 games, anything can happen. Injuries are going to be a major factor and there's no way the knees of a 7ft 260lb monster can handle basketball for three nights straight. However, this can be a blessing in disguise for older teams. Since the season is shorter, the playoffs will approach quicker. Once these old teams have a seed in the playoffs, they won't need to play 30+ meaningless games and risk injuring their veterans. Watch for these old guys to have lots of night offs, also keep an eye out for gruesome and uncomfortable injuries due to fatigue.

Without further ado, here are my predictions for this, the 2011/2012 NBA season.
MVP:
We'll start out with one of the seemingly easiest but hardest awards to hand out: MVP. Most people think this award is based purely on stats, but I can tell you that's wrong. Steve Nash won the award twice while not leading in any statistical category other than assists. This award is about winning, making your teammates better, being a leader, as well as being a media whore. Derrick Rose did just that last year- he led Chicago to their best record since the Jordan era, made his teammates look good, led the team to the eastern conference finals, and took the media by a storm. I would like to underline how important the media whore part of the MVP award is. The majority of the time I feel that's why people win the award. Again, I use Steve Nash as an example, the second time he won the MVP award he did nothing more or nothing less from the year before. Kobe Bryant had a 35ppg season (which is nuts), single-handedly led him and his Kwame Brown Lakers to the playoffs, had an 81pt game against Toronto, and had many more epic performances that season. However, Kobe was coming off of a summer looking like an asshole- demanding trades, threatening his organization, and his rape charge wasn't going anywhere. Kobe clearly deserved this award while he was playing the best basketball of his life, but since the media didn't like him they gave it to Nash.
Anyways I'm getting off track, I personally believe the NBA is rigged and ill be writing a post on that later, but for now I need to choose my MVP. I believe the MVP race is between three players. Chris Paul, Kevin Durant and LeBron James. All three of these players are primed to tear the league a new asshole this year. Chris Paul will be on the cover of every sports page whenever the Clippers play, Kevin Durant is the fucking man, and Lebron can finally put last summer behind him and play basketball like he has vowed to.

This award will go to Chris Paul. Its simple really, Chris Paul has saved the Clippers organization. He'll finally lead the Clippers into the post season for the first time since 1997; while making everyone on that team look like an all-star at the same time. Paul's going to have the media all over him and on his side, and when that happens the NBA will have to hand him the award. Think about it this way, he was a top 5 MVP vote on a New Orleans team with absolutely nobody... What's going to happen now that he has an actual team around him? As long as CP3's knees hold, he'll be hoisting the MVP trophy come next year.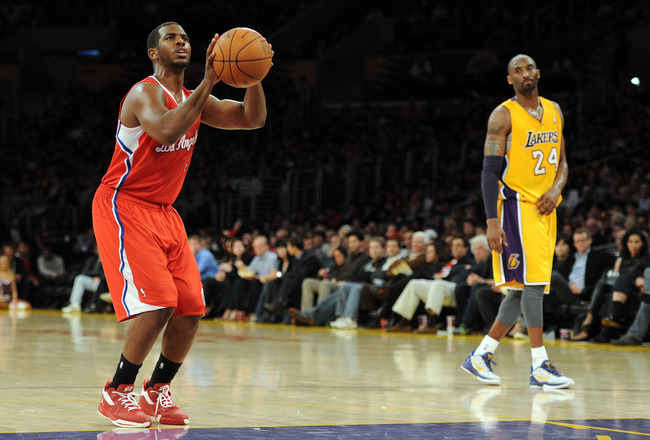 They'll be a lot of M-V-P chants in Staples this year; on both sides
Free Agent Signing with the Biggest Impact:
Although this summer wasn't quite the spectacle of last, there was still a decent amount of action this year. Tyson Chandler is hoping to bring NYC the toughness it was lacking last year, David West will prove doubters wrong in Indiana while Vince Carter is freezing the Dallas offense with nonsense threes. However, the two biggest free agents that will have the biggest impact on their team are Jamal Crawford and Rip Hamilton.
Jamal Crawford signed in Portland for a 2yr 10 million deal. Kudos to management for snagging such a potent scorer for such a steal. Why will he be such an impact for the Blazers? They just lost Brandon Roy, which means they will need someone to replace his scoring and energy. Crawford is perfect for that since he's a score first guard that can create his own shot. Look for Crawford to be in the talks for 6th man of the year again in Portland.
Rip Hamilton is a risky pick but I seriously back it. For the past year or so he wasn't playing in Detroit due to feuds with the coaching staff. Detroit held onto a disgruntled Rip for the year and finally waived him during the off-season. Rip is known for this spot on shooting and his movement without the ball, making Derrick Rose the perfect back court partner. Chicago has been trying to snag a potent wing scorer since the OJ Mayo talks; and they finally got one. Rip will make Chicago's offense that much more dangerous and could possibly push them into the finals. Even though I haven't seen Rip play in a while, as long as he stayed in shape, he could have a huge impact on Chicago's season.
He looks weird without his face mask eh?
Biggest Wildcard:
Someone's been playing too much Skyrim
Firstly, the biggest wildcard of the preseason goes to Andre Kirilenko. I don't know if you guys recall, but the dude got a mother fucking dragon tattoo on his back. Not a little tattoo, but the ink covers his entire back. I can't imagine how much that hurt, or how drunk he had to be to sit through that. Russians are nuts man.
This is my favorite award because anything can happen. The biggest award for the wildcard, in my mind, will go to Kobe Bryant. If the Lakers don't find a way to make good of trading Odom and missing out on CP3, Kobe is going to have a hissy fit similar to the year he demanded a trade and jumped over a moving car. Kobe loves to win and can't stand losing, especially with his championship window closing. I don't see the Lakers going far at all this year, and I really think they will struggle to make the playoffs. The trade deadline will say it all, if the Lakers can snag Deron or Dwight all will be forgiven. They traded away one of Kobe's best friends, missed out on CP3, seemed to be going nowhere with Dwight, Phil Jackson and the triangle are out of the equation and new management is threatening the team's moral by opening up to trade talks..... Oh, Ron Artest still thinks he can shoot threes while being the Lakers 4th best option. If the Lakers don't get Dwight or Deron, there will be drama in tinsel town.
Jebus I didn't realize how long this article is till now. I can't predict anything else until the actual season starts. But just for shits I am going to give you my finals prediction even though this will probably change. Chicago will edge out Miami in game 7 to face OKC in the finals. OKC wins in 6.
Happy Holidays From DGS!
Cheers
JTU